Revised and Expanded!
27th Edition for 2017--
In
BROWN Leatherette

Edition!

It's a whole 'nother ball game.

Only $19.95
"It doesn't make sense to own a gun
and not know the rules."

The Arizona Gun Owner's Guide, Edition 27
Every gun law in the state, word-for-word and in plain English.

See the changes for the past 15 years here.

Whatever edition you may have gotten in the past 25 years

the new BROWN LEATHERETTE 27th EDITION, 2017

includes every update since 1989!


All new laws from 2012–2014 (the last blue book, with the state flag on the cover).

Contains rewrites and clarifications on everything:

No-guns-allowed signs completely clarified
Make-believe gun-free zones explained
Checking guns at entryways de-mystified
Prohibited places of every kind listed
New "reveal and relinquish" rules police can enforce
Rules for minors completely clarified
Burden of proof now favors innocent people
Complete SELF DEFENSE and DEADLY FORCE rules of course
Preemption strengthened against government in favor of you
Military staff and service members get more rights and respect
Improvements to the hunting laws for civilians and military

IT'S TIME FOR YOU TO UPGRADE

Only $19.95
"It doesn't make sense to own a gun
and not know the rules."

Completely up-to-date
All the new rules for your permit if you have one
Everything you need to get one
Every gun you own
Where you can go
When you can shoot
How to stay safe
Dealing with police
Knowing your rights

Castle Doctrine
Stand Your Ground
Defensive Display
Self Defense
Defense of Other People
Rules for the kids

We even improved the grade of paper we used

Out with the BLUE, in with the NEW

Only $19.95
"It doesn't make sense to own a gun
and not know the rules."
Everything from the past is in there too:
Constitutional Carry in 2010 changed so much.
I tossed out entire sections from when
you needed permission slips to carry discreetly.
Government control of trainers and schools has ended.
The self-defense laws have improved by a lot.
The rules for people under 21 are different,
some better than others.
We have even enjoyed some improvements --
at the federal level.
Chapter One: The Right To Keep Arms
In order of appearance
SUPREME COURT
The effect of Heller and McDonald cases are described.
STATE CONSTITUTION
The Militia provisions from the state Constitution are now in the statute section.
FEDERAL POWER
States' rights, aka federalism, is covered, a look at the Art. VI supremacy clause vs. the Tenth Amendment.
WHAT'S A FIREARM
Firearm definitions expanded, including "nearly" guns, toy gaming guns, toy guns, non-guns and now -- bladed instruments:
KNIVES
Two sections on knives (federal and state), plus one-hand knives; deadly weapon v. dangerous instrument. (We passed some of the best knife laws in the country.)
FIREWORKS
Fireworks, a gunpowder toy and loosely related to 2A and now legal in the state, covered in detail, with the statutes word for word.
PUNISHMENT
Half a dozen penalties have changed, mostly up for serious crimes (e.g., terrorism goes from class 3 to class 2 felony), and down for paperwork offenses, like not having you permit while in a alcohol-service place that honors CCW (from class 1 misdemeanor to $300 max fine only, reversible by showing papers at court; Any possession in a bar now a class 3 misdemeanor.). Kids' punishments have changed.
RIGHTS RESTORATION
A path for restoration of gun rights for overcoming certain medical disabilities.
YOUNGSTERS
Possession by minors: It's a whole new world. We now have three classes of youngsters: 14 – 17, under 18, and under 21. For the youngest group, there are time slots only. Various arrangements of accompaniment, notes from parents, methods of carry, fines, driver's-license suspensions, possibly the most convoluted laws on the books today. In plain English in the new edition, of course.
Too much freedom for some?: Arizonans enjoy non registered possession and ownership of arms (with severe penalties for criminal acts of course); Discussion of registration schemes and their lack of a crime-fighting component; lists of the innocent leave criminals unaffected, at great cost.
STATS
NICS and CCW stats updated. 100 million plus NICS gun checks in 13 years. What does that say for the total number of guns in the country?
PREEMPTION
Preemption has been overhauled. The law has been amended so many times it's hard to keep track. The total effect is excellent protection from lower government meddling in gun rights. Described here in its entirety for the first time. Rules for kids are affected under preemption too.
PARKS
Parks and Preserves are no longer banned. It was pure joy eradicating those tired infringements from the text.
GUN LOCKERS
Gun Lockers and checking is finally straightened out, with no registration schemes allowed, easy access required, definitions tightened to prevent government wiggling. But expect some wiggle.
REVEAL AND RELINQUISH
Arizona is now a reveal and relinquish state: You must tell if you are armed if officially asked by police during a proper stop, and you must relinquish your arms if asked, a very dangerous proposition according to experts, handling loaded guns in public countless times a day, from innocent people. The point of that is what exactly?
HIGH SCHOOL MARKSMANSHIP
The Arizona Gun Safety Program, the high-school marksmanship one-credit course has been improved a bit -- now if we can only get more teachers and schools on it.
FRIVOLOUS LAWSUITS
Frivolous lawsuits got another nail in the coffin, but more is needed and coming in a ballot proposition in Nov. 2012.
FIREARMS FREEDOM ACT
The Firearm Freedom Act, a challenge to the federal government's abuse of the Commerce Clause, coordinated through multiple states, legal cases are being built. This law is not a grant of permission to build a gun in your basement, it is a legal test. We'll no more after the cases run. It could launch tremendous new business in the state, if we can just get government out of the way. The preamble to the statute is a testament to our rights, wonderful reading, full text included.
POLICES RESALES
Generally, forfeited weapons can't be destroyed, they must be sold back to the public, unless a rightful owner can be identified.
RIGHTS RESTORATION
One secret for rights restoration involves the definition of a prohibited possessor, described.
And that's just Chapter One!
And only what changed...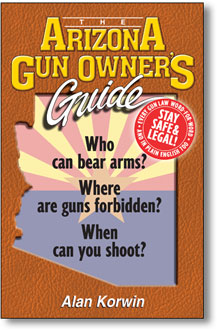 The Arizona Gun Owner's Guide, Edition 27
"Every gun law in the state, word-for-word and in plain English."
Return to The Arizona Gun Owner's Guide home page
Save your old editions -- they're a piece of history.
See the changes for the past 15 years here.
Contact:
Alan Korwin
BLOOMFIELD PRESS
"We publish the gun laws."
4848 E. Cactus #505-440
Scottsdale, AZ 85254
602-996-4020 Phone
602-494-0679 FAX
1-800-707-4020 Orders
http://www.gunlaws.com
alan@gunlaws.com
Call, write, fax or click for a free full-color catalog

Encourage politicians to pass more laws...
with expiration dates.