New for 2015

CALIFORNIA GUN LAWS
by C.D. Michel
with Joseph A. Silvoso, III

Only $29.99 +S&H -- Order yours now
3rd Edition NEW FOR 2015!
40% Discount on Wholesale Orders!
List price $29.99 each, your wholesale cost $17.99 each, minimum order is 6 ($107.94)

PLUS: New law changes are posted online to keep the book up-to-date!

Complete coverage of the new rules
for California gun owners!

Order by phone
1-800-707-4020
Deep discounts for quantity orders on all our products
Call 1-800-707-4020


GREAT NEW FEATURES --

Now loaded with photos and images
to show you
what's legal and what isn't!

and

All new charts and graphs
make it easy to know who can carry --
what, when, where and how!

All the bewildering new laws,
spelled out for you,
cross referenced,
organized,
in one place,
in plain English.




PLUS: New law changes are posted online to keep the book up-to-date!
Here is a comprehensive, plain English guide
to the gun laws in California.
It won't make the laws any better, some of the worst in the nation, but you will be able to understand them.

Don't get caught or prosecuted for some law you didn't know about.
Own and use your guns knowing you're doing it legally and safely.
Get California Gun Laws by attorney C.D. Michel today.
The author, Chuck Michel, has represented the California State Rifle Association and the NRA for years,
winning numerous cases, keeping innocent people out of the clutches of the "officials," getting people's
confiscated property back, and fighting the good fight. Now, after years of doing battle in the courts,
protecting our rights and helping to control the gun controllers, he has put his hard-won knowledge
into this book. It is a step-by-step manual for owning, possessing and using firearms in the "Eureka" state.

Which guns are legal and which ones are not?

How can you legally carry, loaded and unloaded?

What's the truth about using deadly force in self defense?

Where are guns banned?

Who can have a firearm and who is prohibited?

What about magazine size and special gun types?

What's the deal with waiting periods and transfers?

Can you bring guns into the state from elsewhere?

How do you get your guns, or your gun rights back, if authorities take them from you?

California Gun Laws has the answers.

Read the review of California Gun Laws
in NRA's "America's First Freedom" magazine here!
The perfect compliment to the California Gun Laws:
Don't convict yourself after surviving a gunfight --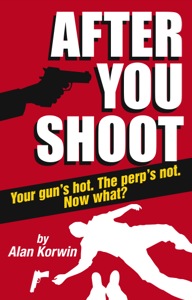 Check out our full line of books
and DVDs for gun owners
CLICK HERE

PARTIAL LIST OF CALIF. CONTENTS

Only $29.99 +S&H, a very wise investment in your safety.
THE RIGHT TO KEEP AND BEAR ARMS

State and federal definitions of firearm and ammunition terms
When is a frame or receiver considered a firearm
Who can own and possess firearms
What does "possession" mean
Transferring firearms and ammunition to a spouse or others
Firearm and ammunition restrictions for people under 21
Differences between handguns, rifles and shotguns
Criminal convictions that can affect your right to arms, in or out of state
Federal restrictions, including domestic violence
Assault, battery, bodily injury, fighting, noise, offensive words, more

Getting your rights restored if they are lost
Burdens of proof in firearm situations
Obtaining a pardon or expungement
Probation, parole, juvenile, drug and mental health restrictions
Restraining and protective order restrictions
Possession by a prohibited person for self defense
Losing your guns and getting them back
Protected property under U.S. and California Constitutions
Firearms seized pursuant to a warrant
Receipt for firearms taken into custody
Returning seized firearms, firearm return procedure
Other rights for owners who cannot receive firearm

HOW TO OBTAIN A FIREARM AND AMMUNITION IN CALIFORNIA
Photo ID, Form 4473, and Dealers Record of Sale (DROS)
Valid photo ID with your age
Background checks and waiting periods
Safety/locking devices and warning
Registration at the time of purchase
Proof of residency for handguns
Handgun Safety Certificate (HSC) and exceptions
Safe handling demonstration
The one-handgun-per-30-days rule
Unsafe handguns and exceptions to the "roster requirement"
Microstamping

Private-party transfers
Interstate firearm purchases and transfers
Transfers from out-of-state dealers
Interstate private party transfers
Loaning firearms
Loans and transfers to people under 21
Intra-family transactions
Inheriting firearms
Transfers between spouses or domestic partners
Transfers to people with entertainment firearm permits (EFPs)
Antique, curio and relic firearms
Acquiring ammunition
Coming to or moving to California with firearms

Don't take chances, know the laws, only $29.99 +S&H
CARRYING FIREARMS OPENLY, CONCEALED, AND/OR LOADED
California concealed-carry law
Carrying concealed -- including all the definitions
Loaded carry law, including all the definitions
Open unloaded carry of handguns
What is a public place
Exceptions to carrying concealed and/or loaded firearms
Carry in residences, place of business, or private property you own
Carrying or having a loaded firearm in residence or business
Firearm storage in the home
Carrying a concealed and/or loaded firearm when in grave danger
Transporting unloaded handguns
Transporting handguns in a vehicle
"Locked Container" defined
Transporting firearms in a plastic box attached to a motorcycle

When is a vehicle your home or place of residence
Vehicles as places of business
Carrying a handgun to and from your vehicle
Transporting rifles, shotguns, and ammunition in a motor vehicle
Permit to carry concealed and loaded in public
Circumstances or people who may carry a concealed and loaded firearm
Transporting a firearm across state lines
Commercial airline, national and state parks, Greyhound buses, Amtrak


PROHIBITED PLACES AND RESTRICTED USES
Complete list

LOCAL ORDINANCES
Detailed coverage
USE OF FIREARMS
Discharging a firearm
Hunting
Firing ranges
Public and private property
Local regulations and ordinances
State and national parks, forests, refuges, other protected areas, and BLM land,
suggestions for shooting in public, discharging firearms in the air on the Fourth of July and New Year's Eve

"ASSAULT WEAPONS" AND .50 BMG RIFLES
Roberti-Roos Assault Weapons Control Act of 1989
Making Category 3 AWs comply with California law
Loaning and Returning an "assault weapon" or a .50 BMG Rifle
DOJ permits, FFL exceptions, service or repair, registration
What to do if you think you have an "assault weapon" or .50 BMG rifle

HEAVILY REGULATED FIREARMS, DEVICES AND ACTIVITIES
Full lists and definitions
Cane gun, wallet gun, "undetectable" gun, multiburst trigger, short barrels, zip guns, large cap magazines, AOWs, silencers, many more
Special tolerance for media and entertainment, historical societies, museums, law enforcement community, forensic labs, more
Dealers and gunsmiths
Importing or selling with a permit
Armored-vehicle business
Manufacturing large-capacity magazines
Media props
Special-weapons permits
Law-enforcement agencies
Machine guns
Prohibitions
Permits
Licenses to sell
Destructive devices
Ammunition with flechette darts, explosives, armor piercing, tracers
BB guns, Toy guns, imitation firearms
Tear gas, less-lethal weapons, stun guns, blow guns
Tear gas, pepper spray, and Mace


It doesn't make sense to own a gun and not know the rules, only $29.99 +S&H
USE OF FORCE AND LAWFUL SELF-DEFENSE

Reasonable belief of imminent danger
Reasonable and unreasonable belief, imminent danger
Necessity and once the threat of danger ends
Use of deadly force to stop certain dangerous felonies
Non-lethal self defense and related issues
No duty to retreat and exceptions
Instigating a fight
Use of deadly force in an emergency
Defense of personal and real property
Removing a trespasser from your home
Resisting an intruder within your home
Spring guns and booby traps

SELF-DEFENSE OUTSIDE THE HOME

Use of lawful self-defense and possibility of a civil case
Possible offenses for using firearms
Murder
Assault with a deadly weapon
Using a firearm in a felony
Discharging a firearm from a vehicle
Negligently discharging a firearm or BB device
Brandishing
Vehicle forfeiture for firearm discharges or brandishing
Trespassing to discharge a firearm
Use of laser scopes
Appendix: "Assault weapons" listed by name and category
Glossary of Terms
This is definitely the book to have if you own or use guns in California.
Only $29.99 +S&H, it's cheaper than a lawyer, by one of the best lawyers in the state!
Order yours today!

Get this book and don't take chances with your freedom or your rights.
The best $29.99 you can spend today.
Order by phone
1-800-707-4020
Deep discounts for quantity orders
Law changes are posted to keep the book up-to-date!
Contact:
Alan Korwin
BLOOMFIELD PRESS
"We publish the gun laws."
4848 E. Cactus #505-440
Scottsdale, AZ 85254
602-996-4020 Phone
602-494-0679 FAX
1-800-707-4020 Orders
http://www.gunlaws.com
alan@gunlaws.com
Call, write, fax or click for a free full-color catalog

Encourage politicians to pass more laws...
with expiration dates.