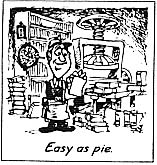 SELF-PUBLISHING—
How To Turn Your Book Idea
Into A Revenue Stream

For Schedule Information
Click Here or Call
602-996-4020
800-707-4020

Do you have the guts to self-publish your book? This is the hot new ticket for entrepreneurial success. Get the book inside you outside you, feel the pride, and make the money. Get names, contacts, distributors and super promotional ideas that will help make your book a smash.
News Release:
SPECIAL Class Reveals Self-Publishing Secrets

---

(Phoenix, Ariz., API)
The rapidly growing and lucrative entrepreneurial field of self-publishing is the subject of a class being offered by Alan Korwin, a Scottsdale-based publisher, writer, speaker and trainer. A past president of the Arizona Book Publishing Association, Korwin's first book (he's written ten) is self-published and is now in its 22nd printing.

"It's easy to make money by publishing a book yourself, as long as you do it sensibly," he says. Home computers and changing market trends are fueling growth in the field, he notes. Korwin shares proven methods for successfully creating and marketing books in the six-hour seminar.

Anyone thinking of writing and self-publishing a book can enjoy a jump-start by getting first-hand information on the entire process. Discover the pitfalls before it's too late. The self-publishing seminar is one of six programs Korwin is offering this season.

You'll find out:
Why self-publishing has become so popular
Exactly what it takes to get started
All the hats you need to succeed
How to tell if a book is a moneymaker
Pricing, revenue projections and income
How to get distributors
Who the various distributors are
Distributor pricing
Sales and marketing tools
Super promotional ideas
The ins and outs of book design and printing
How to get book reviews and free publicity
How to handle author signings and tours
Copyright, bar codes and technical details
Much more
Handouts include:
Names and addresses of distributors
Revenue projections and trade discounts
Copyright forms with instructions, and more
BRING ALONG LUNCH FOR A SPECIAL MID-SESSION BREAK!
Here's why people self-publish:
Because home computers and market conditions make self-publishing easy and because the profit margin is very high. How soon we've forgotten that you used to have to melt lead to set type. Today, publishing is neat and clean. Expressing yourself is a grand American tradition, and market stratification allows you to sell efficiently. Aside from the money and the pure satisfaction, people self-publish to:
Avoid the arrogance, attitude problems and closed-door policies of mainstream publishers
Keep all the money–not just a mere few-percent royalty on the list price, paid six months late all the time, if at all.
Control the process from start to finish:

Edited as you see fit, period
Produced to your satisfaction
Without artistic compromises
Right down to the cover art
When you leave this class you'll know exactly how to publish your own book.

This class will save you

from squandering your assets.

In Arizona 602-996-4020

Nationwide 800-707-4020