Texas Gun-Law Changes for Sep. 1, 2017


Texas Gun Law Changes Again
Another change to the 8th edition of The Texas Gun Owner's Guide.
Effective Sept. 1, 2017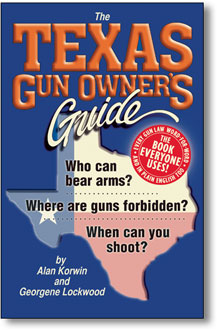 Edition 8


Makes it easy to know what the changes are.

Download a printable update for older edition 7 to put in your book.
IF YOUR BOOK IS OLDER THAN EDITION 7, IT'S TIME FOR A NEW ONE.
Find the date and edition number on page 2.
See all the updates for 15 years, fascinating history, HERE.


New Texas Gun Law

##

Details will be posted soon.


Copyright 2017 Alan Korwin All rights reserved

Alan Korwin
BLOOMFIELD PRESS
4848 E. Cactus #505-440 o Scottsdale, AZ 85254
1-800-707-4020 Orders o 602-996-4020
info@gunlaws.com
GunLaws.com

Protect yourself, get-After You Shoot: Your gun's hot. The perp's not. Now what? Don't end up in more trouble than the crook. Also: The Travelers Guide to the Firearm Laws of the 50 States, new for 2016, completely updated! See our full line at GunLaws.com. Since 1989.

SIGN UP FOR FUTURE DETAILS: GunLaws.com

Please add me to your free updates list:
Alan's private email list -- used infrequently for his
Page Nine News Reports and Gun Law Updates;
unsubscribe anytime.


Get the gun laws in plain English: THE TEXAS GUN OWNER'S GUIDE, only $14.95 +$4 S&H • eBooks TOO!


Don't take chances, know the rules:
The Texas Gun Owner's Guide



Contact:
Alan Korwin
BLOOMFIELD PRESS
"We publish the gun laws."
4848 E. Cactus #505-440
Scottsdale, AZ 85254
602-996-4020 Phone
602-494-0679 FAX
1-800-707-4020 Orders
http://www.gunlaws.com
alan@gunlaws.com
Call, write, fax or click for a free full-color catalog

Encourage politicians to pass more laws...
with expiration dates.