Guns Save Lives—Tasteful 1-1/2" size buttons:


Throw one in with your order! Only $1 ea.
, 10 for $5
Go the distance -- Get 100 wholesale -- 100 for only $45
Distributor price -- 1,000 for $350
___________________
ECONOMICAL STICKERS!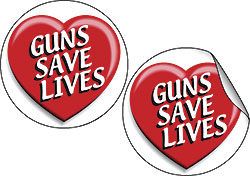 Get our wildly popular "Guns Save Lives" heart...
... as an inexpensive sticker you can use everywhere!
Use them on greeting cards, mail, your gun cases,
anywhere you want to help get this message across.
Cheap enough to use without worrying about the cost.
Get 10 for a buck
Get 100 for only $6 (a smokin' deal)
A full roll of 1,000 stickers is only $50!