The Politics of Guns
Because many of our customers are interested
in gun politics as well as gun laws,
we now carry the best books available
on gun policy in the United States.

• Why do people cry out for "gun control" laws?
• Are crime and guns directly connected?
• Who should have guns?
• What does the Second Amendment really mean?
• What happened to the good old American values?

If these issues are important to you, try the books on this page. These are the best of the best, written by the leaders in the field, giving you a sound factual and moral basis for understanding the role guns play in American society, politics and national safety.
---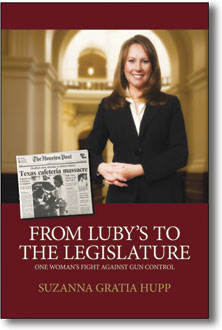 We have it in Stock!!
This is one amazing book!

FROM LUBY'S TO THE LEGISLATURE
One woman's fight against gun control
Suzanna Gratia Hupp $22.95 Hardcover

Surviving a mad-man's rampage where 23 innocent people are slaughtered can really ruin your day -- and change your life forever. Suzanna watched as both of her parents were cut down, while her own gun sat useless in her vehicle -- because a hopelessly bad law banned it in the Luby's restaurant, and she followed that rule. She had a clear closeup shot at the psycho, and couldn't take it.
Infuriated by the denial of her rights and the price she paid for feel-good do-nothing harmful laws, she won a seat in the Texas legislature and successfully battled to put gun laws on the side of the innocent. National media didn't know what to make of her, a decent, soft spoken, intelligent woman campaigning to arm the public. She tells her story in a compelling way, going from a naive young lady to a freedom fighter we can all look up to for inspiration.
The book gives you chills, makes you want to cheer, warms your heart and -- a first-person survivor's account of one of America's worst atrocities, and the aftermath that helped us all.
---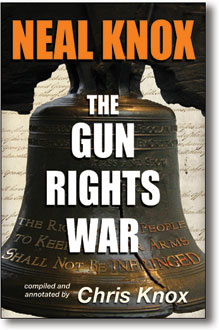 Neal Knox: The Gun Rights War
Dispatches from the front lines
Compiled and annotated by Chris Knox, List price: $24.95, our price only $19.95 !

For almost 40 years, nothing in the gun-rights movement happened outside of the influence of Neal Knox. A prolific writer, stalwart defender of freedom, bare-knuckled inside fighter, and ardent fan of anything that goes "bang!" here at last is the book that brings it together. The core of the writing that built his reputation, and protected the rights you enjoy today. If you've enjoyed decades of classic Neal in Shotgun News you'll savor every page. If you don't know what that means, here's your chance to look at how the gun-rights war has really been fought -- and needs to be fought in the future.
• The inside story of the power struggle that gave the NRA presidency to Charlton Heston instead of Neal -- by four votes!
• Neal's prediction that suicide terrorists might use jets as weapons a dozen years before the 9-11 attacks; the odd connection between the Bradys and the CIA; how Republicans tried to derail the Gun Owners Protection Act, so much more.

• True stories of guns, guts and glory in the Second Amendment battle for freedom to keep and bear arms.
No one was in a better position to put Neal's story together than his son Chris. This annotated compilation of Neal's work, from his son's direct perspective provides an insight you can get nowhere else.
Neal is: "A dark force within the NRA" (New York Times); "The evil genius at NRA" (Ted Kennedy); "The conscience of the gun rights movement" (Gun Week). "A hero -- no, the hero -- of the 20th century gun-rights movement." -Tanya Metaksa, former Executive Director, NRA-ILA
Available now!

Get your hands on this fascinating book!
Learn how gun-rights are actually won.

---
The Bias Against Guns
Why Almost Everything You've Heard About Gun Control Is Wrong
by John R. Lott, Jr., Ph.D.,
List price $27.95; Our price only $19.95!
Hardcover
Dr. Lott has assembled the hard proof for what so many of us have recognized -- the news media portrayal of guns and gun issues is completely wrong. They virtually exclude anything positive about guns, and distort the rest. Tremendous sets of facts and figures for convincing skeptics.
More than a dozen scholarly studies show millions of defensive gun uses (DGUs) annually, but here's what Lott found the news showed in 2001: USA Today: 5,660 words on gun crime, zero on DGUs; NY Times 50,745 words on gun crimes, DGUs 161 words (one story about an off-duty cop); All three networks combined, 190,000 to zero. Dan Rather got ripped for one bogus story, but for decades he's been suppressing the truth. This book lays it all out in plain simple terms with countless examples you expect from a statistically competent Ph.D., and compelling narrative that makes Lott a true leader in the field. The anti-rights forces and phony media "watchdogs" wish this book would go away -- because it's the proof of their bias.
---
Nation of Cowards
Essays on the Ethics of Gun Control
by Attorney Jeff Snyder, $14.95
These are simply some of the most brilliant essays ever written on this subject. The title essay has become globally famous and circulated on the web for years. The rest are as good or better. His basic premise is that you and you alone own your life, and that it is unethical, immoral and politically corrupt to entrust your right to your own life to someone else, or to abdicate the tools needed to protect yourself and your loved ones. People who would take these rights from you, or encourage you to abandon them, even if they believe they are doing good, are the worst kind of cowards and represent the opposite of American values.
---
More Guns, Less Crime:
Understanding Gun Control Laws, 2nd Edition
By John R. Lott, Jr., $18.00

This is the classic, published by the University of Chicago Press.

Lott, a senior research scholar at Yale who has since become famous for this work, conducted a statistically sound, scientifically valid analysis of every local county in America, and found that gun ownership reduces crime rates. Unlike bogus "studies" conducted by anti-rights activists, Lott published all his research data, and other scholars confirmed the results. This book pulls the rug out from under the lies and scare tactics of bigots who hate people and their guns, and instead substitutes something many people sensed all along -- the fact that gun ownership, and more specifically, the right to carry, has a positive effect in reducing crime.

"The most rigorous and comprehensive analysis ever done on crime statistics and right-to-carry laws." -U. of Chicago Press

"John Lott documents how far politically correct vested interests are willing to go to denigrate anyone who dares disagree with them. Lott has done us all a service by his thorough, thoughtful, scholarly approach to a highly controversial issue." -Milton Friedman

"By providing strong empirical evidence that yet another liberal policy is a cause of the very evil it purports to cure, he has permanently changed the terms of debate on gun control... Lott's book could hardly be more timely... a model of the meticulous application of economics and statistics to law and policy." -National Review

"More, Guns, Less Crime is one of the most important books of our time. It provides thoroughly researched facts on a life and death subject that is too often discussed on the basis of unsubstantiated beliefs and hysterical emotions. -Thomas Sowell

"His empirical analysis sets a standard that will be difficult to match... this has got to be the most extensive empirical study of crime deterrence that has been done to date." -Public Choice

Formerly available only as an expensive hardcover, now an affordable paperback.


---
The Samurai, The Mountie, and The Cowboy
Should America adopt the gun controls of other democracies?
by David B. Kopel, $37.98
Kopel meticulously and with luscious style compares the gun consciousness, gun policies and gun laws of Japan, Canada, Great Britain, Switzerland, Jamaica, New Zealand, Australia and the United States, for an eye-opening comparison of the cultures, social values, safety and relative freedom of these countries. This book is a joy to read. There is no better way to get a sense of what the gun laws are like in other lands, and gain a deep appreciation of why the United States is the linchpin of freedom on planet Earth. He puts to rest once and for all the false notions that it's better over there because their governments are so strict and authoritarian, and documents his observations and conclusions with more than 1,000 footnotes. Given our attachment to individualism, equality and a government that serves the people, he concludes that encouragement of mature, responsible gun use is the best policy for this country.
"A superb piece of scholarship, admirable for its integrity and painstaking research. Kopel provides the fresh air of reason in a national debate too often marked by acrimony and prejudice." -Tom Clancy
"In this superbly documented and persuasively argued book, Kopel does more than demonstrate why gun controls would not work in America; he reminds us that legal controls ought to support, not replace, self-control." -Thomas Szasz, Professor Emeritus of Psychiatry, State University of New York
"A compelling look at how other democracies have attempted to solve their own gun problems, and what we can learn from these countries... Kopel proposes a responsible firearms policy that makes sense for the United States." -Prometheus Books
If you want a reference to the gun laws of the entire world, click here
for the 64-nation Worldwide Gun Onwer's Guide.

---
Breaking From The Herd
by Craig J. Cantoni, $18.95
Outstanding insight into why government is broken, in easily digested small bites. Understand how government policy and creeping socialism are helping the American Dream slip away. "Cantoni packs more incisive thought and reasonable solutions into each of dozens of short essays than many writers fit in a full book." Truly gets to the heart of the problems our rights face today from newspapers, the school system, government, taxes, do-gooders, and both political parties.
Cantoni shines light on the abuses of bureaucrats who care more about their jobs than your rights, entire agencies dedicated to taking your money and giving it to other people, a tax system that knows no limits, reporters who willingly aid and abet monstrous government infringements on freedom, and a teacher's union that is rotten to the core. Learn what it will take to fix the greatest challenges America faces.
---
Gun Saint
by John Michael Snyder, $6.95
The Catholic Church recognizes patron saints over many human activities. Why not a patron saint of handgunners, asks this devoutly religious and long-time gun-rights lobbyist. A stunning conception, beautifully supported.
His candidate is St. Gabriel Possenti, who rescued villagers in Italy from a marauding band of thugs in 1860, by picking off a lizard with a single shot, terrifying the gang and causing them to flee. Possenti was canonized in Rome in 1920 by Pope Benedict XV, and author Snyder says it would be appropriate to make him a patron saint. Includes a remarkably clear description of the church process for such activities, so church members can pursue this goal.
---
THE NEW DICTIONARY OF LEGAL TERMS
by Irving Shapiro, 16.95
Definitions for nearly 10,000 words and phrases that are the language of law, especially well done for non-lawyers. Convenient size, impressive encyclopedic resource is handy for anyone who writes, speaks or uses legal terms including police, attorneys, judges, paralegals, students, court staff, plus, has a helpful pronunciation key for clear articulation and understanding.
---
Armed: New Perspectives on Gun Control
by Gary Kleck and Don B. Kates Jr., $30.98
Hardcover
"If you believe, as I once did, that we can reduce violent crime by simply restricting gun ownership, you should read this book. It will change your basic beliefs. -Steven B. Duke, Professor of Law, Yale University

The key stats you always hear about are in this book: the ground-breaking summary of 13 key studies of DGUs -- Defensive Gun Uses -- that show millions of armed self-defense incidents every year. Plus, the Kleck/Kates survey that found 2.5 million DGUs and is mentioned in every serious research paper on the subject. If you want the facts and figures, this book belongs in your library.
The gun control debate is often obscured by strong emotions and unproven assumptions. According to conventional wisdom accidents with handguns account for a significant number of deaths among children, gun owners endanger themselves more than they ward off potential criminal assailants, and there is a widespread legal consensus that the Second Amendment does not support the individual right to bear arms. All of these assumptions, and many others, say researchers Gary Kleck and Don Kates, are contradicted by the weight of criminological and legal evidence. Hoping to disentangle myth from reality, the authors summarize the results and policy implications of recent state-of-the-art research on guns and violence in accessible, non-technical language.

Among the topics addressed are media bias in coverage of gun issues, the distorting effects that a covert prohibitionist agenda has on the debate over more moderate measures for reducing gun violence, the frequency and effectiveness of the defensive use of guns, and a close analysis of the Second Amendment.

This well-argued and scrupulously researched volume is essential for any full understanding of the complex gun issue.

Gary Kleck (Tallahassee, FL) is professor at the School of Criminology and Criminal Justice of Florida State University. Don B. Kates (Novato, CA) is a partner at the national law firm of Benenson & Kates.


---
Guns: Who Should Have Them?
Edited by David B. Kopel, $35.98
Going beyond the emotional appeals and stilted rhetoric on gun control, Guns tackles the problems in a straight-forward, intelligent manner. Each chapter in this powerful volume, written by leading experts in law, criminology, medicine, psychiatry, and feminist studies, addresses a major issue in the gun-control debate. The conclusions of this carefully detailed and superbly argued study are difficult to deny: "gun control" is a red herring that has been deflecting attention from the true causes of crime, namely, the breakdown of the family; failed social welfare programs; and increasing hopelessness among male youths, especially in our troubled inner cities.

"The book's exceptional documentation is a valuable resource for those who want more ammunition to defend their gun rights. . . also has the freshest and most thorough look at the gun issue from a woman's perspective . . ." -American Rifleman

"If this is a U.S.-based book examining a right which has effectively disappeared here (Great Britain), why should we urge people in this country to read it? The fact is that we can use it to destroy many of the myths, particularly the 'look at what happens in America' syndrome. We can study the real effects of gun availability and the benefits of gun control and, through an absolutely outstanding series of references to other studies we can enlarge our knowledge. . . .We must become better informed and this book is one means of so doing." -Guns Review

". . . a welcome addition to the criminal justice bookshelf." -Criminal Justice Newsletter

". . . [a] mountain of documented facts, statistics, news stories, anecdotes, and testimonies that clearly disprove most of the beliefs of the gun control people. .. . Here is constitutional freedom for men, women, blacks, and other minorities like the elderly. This book is an intellectual tour-de-force." -Critical Review

". . . an important contribution to an important debate. It is a fiery and interesting book." -Perspectives on Political Science



---
The Gun Control Debate:
You Decide, Second Edition
Edited by Lee Nisbet, Ph.D., $24.98
Columbine and other highly publicized shootings have kept America's century-old gun debate in the forefront of public attention.

Using selections from historians, criminologists, social scientists, public health specialists, and jurists, Dr. Nisbet provides an in-depth analysis of the central issues involved in our debate over guns. By providing a set of critical-thinking questions, with examples of experts raising these very points, Nisbet invites readers to evaluate gun-control issues more deeply and thoroughly than is possible in the popular media's portrayal of the issue.

Among the questions addressed are:
Does the availability of guns influence levels, patterns, and concentrations of violent crime?
If so, how, and what are the policy implications?
Do guns for self-defense menace gun owners and their families more than protect them?
Should women, in particular, arm themselves?
How should we interpret the Second Amendment?
How does the gun debate reflect underlying cultural volatility?
Containing twenty-nine new articles and an entirely new section on the media called, "The Gun Control Debate in the Age of (Mis)information," this new revised edition provides the most up-to-date research on this hotly contested topic. The contributors include B. Bruce-Briggs, Philip J. Cook, Barry Glasner, Gordon Hawkins, Richard Hofstadter, Don B. Kates Jr., Gary Kleck, David Kopel, John Lott, Joyce Malcolm, Gary Wills, Mary Zeiss Stange, Franklin E. Zimring, and others.

No matter what side of the debate you're on, this outstanding collection of the best articles on gun control will give you the critical-thinking tools and the facts needed to understand the complexities of this controversial issue.

Lee Nisbet, Ph.D. is professor of philosophy at Medaille College, Buffalo, NY, and a founding member and fellow of the Committee for the Scientific Investigation of Claims of the Paranormal (CSICOP). He writes and lectures frequently on the application of logical and psychological critical-thinking techniques to controversial policy issues.

---
---
On a lighter note ... and a unique experience:

The Worst-Case Scenario Survival Handbook
by Joshua Piven and David Borgenicht, $14.95
An indispensable guide for surviving life's sudden turns for the worst. Survival experts provide illustrated, step-by-step instructions on what you need to know FAST:
-- How to take a punch
-- How to deliver a baby in a taxicab
-- How to jump from a moving car
-- How to stop a car with no brakes
-- How to escape from a bear
(with separate entries for snakes, mountain lion, killer bees, charging bull, alligator and more).
How to treat a bullet or knife wound
How to use a defibrillator
How to perform a tracheotomy
How to land the plane
And much much more!
Amazing reading, this compelling page-turner gives you the real skinny on stuff you've mostly only seen as movie mythology. This book is the extra step for anyone who keeps a gun for safety.

"Ramming a car to move it out of your way is not easy or safe, but there are some methods that work better than others and some that will minimize damage to your vehicle... The best way to hit a car blocking your path is to clip the very rear of it, about one foot from the rear bumper. The rear is usually the lightest part of a car, and it will move relatively easily..."
Request a free full-color catalog
Click here for related books on
THE STRUGGLE FOR GUN RIGHTS