Knife Laws of the 50 States
Available at last!
Needed for a long time -- there's nothing else like it,
and we've got it in stock.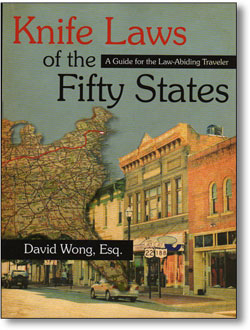 OUR NEWEST BOOK!
Knife Laws of the 50 States—A Guide for the Law-Abiding Traveler

$24.95


A blade guide at last! Attorney David Wong has done a tremendous job
getting and explaining knife laws for all 50 states.

Filled with interesting text and clear explanations,
a chart shows each state's carry rules for
Folders
Fixed blades
Dirks
Daggers
Stilettos
Automatic (switchblade) knives
Balisongs (butterfly knives)
and more!
Covers each state in plain English,
includes the primary knife statutes for the state, word-for-word.
ALSO COVERS FEDERAL KNIFE LAWS.
It even includes selected court cases at the state level.
Well organized, with extensive resources listed.
Large format 8.5 x 11 inches; 200 pgs; only $24.95!
This is it folks -- most gun-savvy people carry a knife.
Some prefer a knife since it is easier to carry it legally.
"Knife Laws of the 50 States" takes away the guesswork!
Stay legal. Stay safe.
Get Knife Laws of the 50 States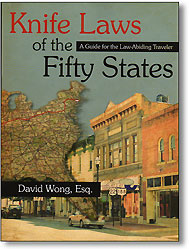 Knife Laws of the 50 States, $24.95

Contact:
Alan Korwin
BLOOMFIELD PRESS
"We publish the gun laws."
4848 E. Cactus, #505-440
Scottsdale, AZ 85254
602-996-4020 Phone
602-494-0679 FAX
1-800-707-4020 Orders
http://www.gunlaws.com
alan@gunlaws.com
Call, write, fax or click for a free full-color catalog

Encourage politicians to pass more laws...
with expiration dates.