NATIONAL TRAINING WEEK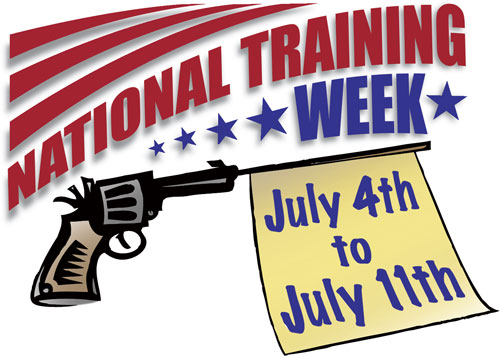 Celebrate the Fourth of July
with Fireworks, Firearms and Freedom
______________________
"Dear Colleague" endorsement circulating in Congress -- see it for yourself!
National Training Week has been nationally endorsed by:

The National Rifle Association
The Second Amendment Foundation
Gun Owners of America
Jews for the Preservation of Firearms Ownership
Second Amendment Sisters
The Firearms Coalition/Hard Corps Report
Americans for Tax Reform
The Second Amendment March
The Citizens Committee for the Right to Keep and Bear Arms
The Appleseed Project
KeepAndBearArms.com
(Use the email button on our home page to advise us
of your support and we'll add your group to the list:)
http://www.gunlaws.com
Numerous local and state groups also support National Training Week,
because it makes perfect sense.



HOW TO:
Memo: NATIONAL TRAINING WEEK — 3 Easy Steps
Memo: NATIONAL TRAINING WEEK — 3 Easy Steps
Memo: NATIONAL TRAINING WEEK — 3 Easy Steps

Gun Owners -- Give this to your local range:


Dear Range Owner,

The week of July 4th is being established as National Training Week,
a time when all good Americans go to ranges nationwide and enjoy the shooting sports.

This is a promotional and business-building opportunity for you,
and a chance for the nation to rise up as one and exercise the right to keep and bear arms.

The event is strictly voluntary, it costs you virtually nothing to participate,
and you will attract new customers and a revenue stream by climbing on board.

1. Tell your employees to talk up National Training Week, July 4 to July 11,
and post the fliers linked at the end of this letter.

2. Offer your standard handgun rentals for one hour at no charge—that's the big draw!
People get to try out firearms they haven't fired. It costs you almost nothing,
and customers use range time and ammo at normal prices—or offer discounts
and package deals if you really want to increase your crowd.

3. Schedule classes, have instructors available on site, make sure you have supplies
on hand (including some books!), and add any other promo and PR you like to increase traffic.

It's easy, it's coordinated nationwide, national news outlets are being approached for coverage...
put up the signs, tell your clients, go for it!

"Good Americans are good marksmen."
"Safe gun handling is everybody's business."
"Celebrate your freedom with fireworks and firearms."
______________________

Download these messages as ready-to-post fliers :
NATIONAL TRAINING WEEK
July 4 to July 11
• 1-hour FREE Handgun Rentals!
• Special classes for newcomers!
• Instructors on site!
• Easy lessons for first-time gun owners!
As part of the national campaign to improve marksmanship and gun safety across America,
our range is offering FREE handgun rentals—this is your chance to try out a new firearm,
get in some range time, sharpen your skills, and exercise your right to keep and bear arms!
Don't miss this great opportunity!
We'll be offering special classes for people who are new to firearms,
safety instructions for parents, special attention for youngsters,
even advanced classes for highly skilled shooters.
Mark your calendar—make sure you visit us during 4th of July week
and add firearms to the fireworks of this great American holiday!

"Celebrate your freedom with fireworks and firearms."


Want to do something to defend your rights?
• Invite a friend, especially a newcomer, to go to the range with you •
Your friends will be thrilled to be invited,
especially if they've never been to a range before.
Give them this opportunity.
It's about the best thing you can give to an American.
"You're an American -- you can do this!"
Download the endorsement from
Congressman David Schweikert
Congressman Trent Franks
Congressman Ben Quayle
Additional endorsements will be posted soon.
Download the original endorsement of
National Training Week from
Congressman John Shadegg
(or download a black-and-white version here which will photocopy better)
••••••••
Please -- Don't Donate To Us!
If you want to donate to our efforts, just buy our goods from us,
they're really good.

At least look. Here:
http://www.gunlaws.com/books.htm
Gun laws • Gun rights • Tactics and strategy • Gun politics • Gun safety

Learn about cheap wholesale pricing, here:
http://www.gunlaws.com/ForDealers.htm

You get something, we get something, it's much better.
Self-interest and capitalism -- The American Way
info@gunlaws.com

--



Get our free full-color GunLaws.com catalog
Completely free, totally cool --
http://www.gunlaws.com/catalog.htm

• Special new goods for kids, parents, women, self defense, knives, guns, much more •



Plain-English state-by-state gun-owner guides -- know your laws, stay safe.
http://www.gunlaws.com/books.htm
Self Defense
http://www.gunlaws.com/persafe.htm
Protecting Gun Rights
http://www.gunlaws.com/books3.htm
Read Alan's blog:
http://www.gunlaws.com/PageNineIndex.htm
Contact:
Alan Korwin, Publisher
BLOOMFIELD PRESS
"We publish the gun laws."
4848 E. Cactus #505-440
Scottsdale, AZ 85254
602-996-4020 Phone
602-494-0679 FAX
1-800-707-4020 Orders
http://www.gunlaws.com
alan@gunlaws.com
Call, write, fax or click for a free full-color catalog

Encourage politicians to pass more laws...
with expiration dates.