Supreme Court Gun Cases
Eyewitness account of the greatest 2A case in history
Back to the Supreme Court Directory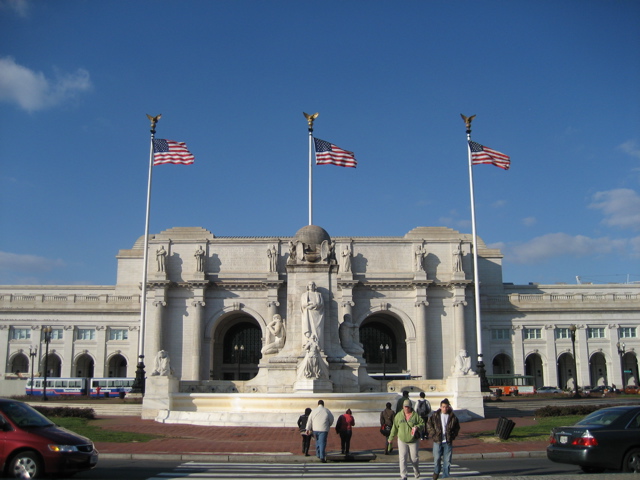 Magnificent Union Station was the nearest place with food and facilities, and the nearest stop on the Metro subway from our hotel (a ten-minute, five-stop ride). The half-mile walk to the Courthouse was uphill, made more times than I care to count, often in bitter cold against a wind. On Sunday, the food shops closed at 7 p.m., otherwise we had till 9 p.m. to find chow, relief and warmth. My face was so cold the first night I couldn't feel it, but despite that, we carried pizza and coffee back for Jason and Dan, who weathered two full nights outside, and implored them to call us if a line started forming. We headed back to our hotel, for one night's rest before the long vigil on Monday.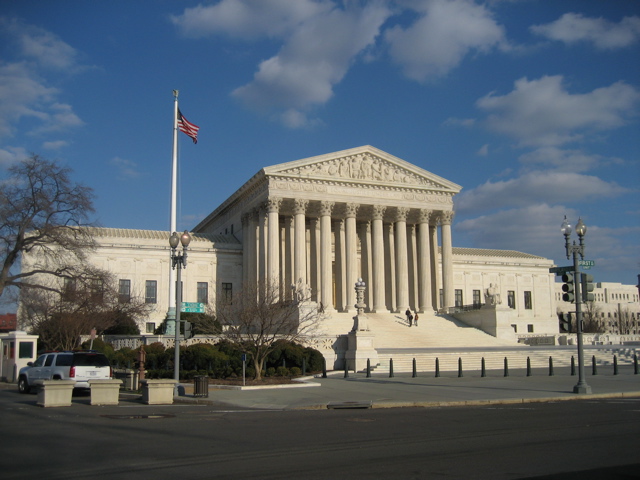 The calm before the storm. The Courthouse was virtually deserted Sunday at around 5:45 p.m., when we first arrived. We had hustled straight from the airport, dropped our bags at the hotel, and made our way directly to 1 First St. NE. Our pace quickened as we closed the last of the uphill half-mile from the train station. We turned that final corner with our hearts in our throats -- were we in time? Was the line already too long? Was this case so big that two nights in advance was not enough? Sudden relief. No one was there. We were actually the first to arrive, but not for long.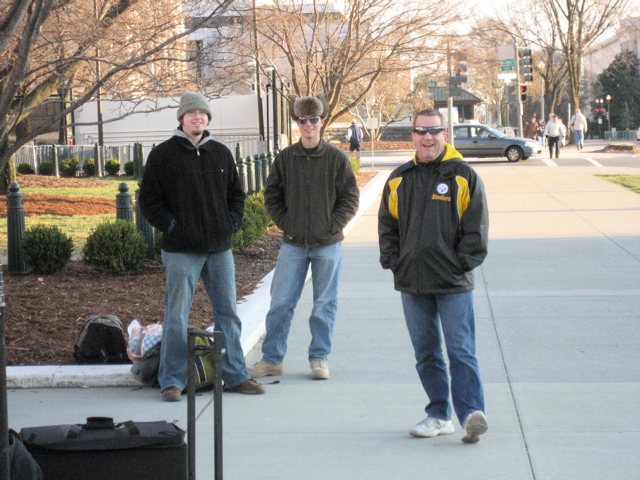 L to R: Dan Mott, Jason McCrory and Bob Blackmer at the head of the line on the still-empty street that would become Hellertown. Jason convinced his friend Dan to join him on the adventure, and they arrived with the same oppressive doubts about getting in -- which turned out unfounded.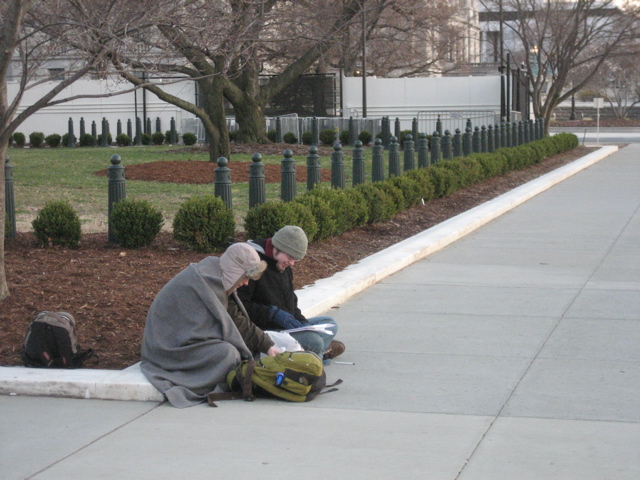 We left our two new friends to a solo stakeout, on an evening that turned out to be the coldest and loneliest of the trip. They needed warmer gear than they had that night, but that's the way it went down. Determined to keep their place at the head of the line, Bob and I marched to Union Station to bring them back some victuals and joe, and a bottle they could empty and use for relief, if you catch my drift. We were running on three hours of sleep ourselves, having just blown in from Phoenix, but hey, we felt we had to stick together.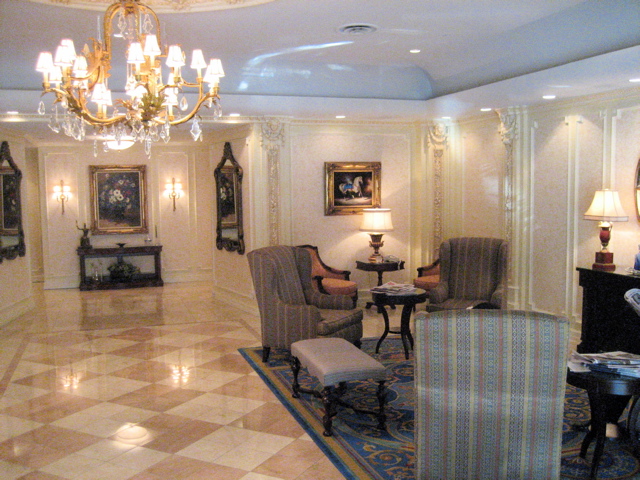 Our hotel was nicer than we had a right to expect. We chose it pretty blind, based on the lowest price we could find and near the Metro red line that led directly to Union Station, the closest stop to SCOTUS. The Churchill Hotel was a hundred-year-old masterpiece, but half a mile from the Metro stop, and uphill. (What is it with these half-mile uphill walks? Bob didn't mind that much, but his bones are 20 years younger than mine.)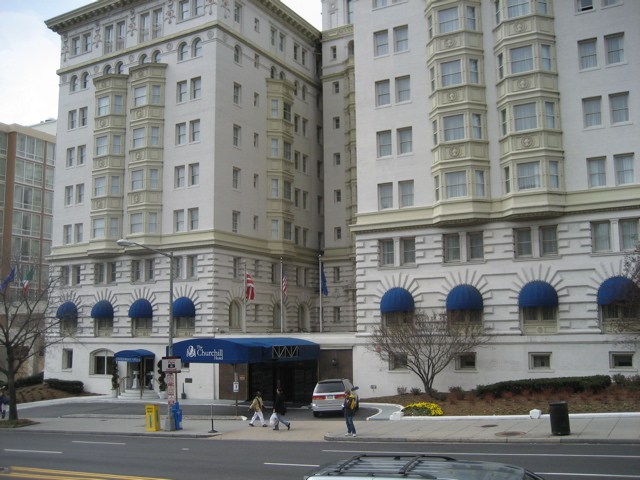 I was afraid we might have a flea bag, but I'd stay in digs like this anytime.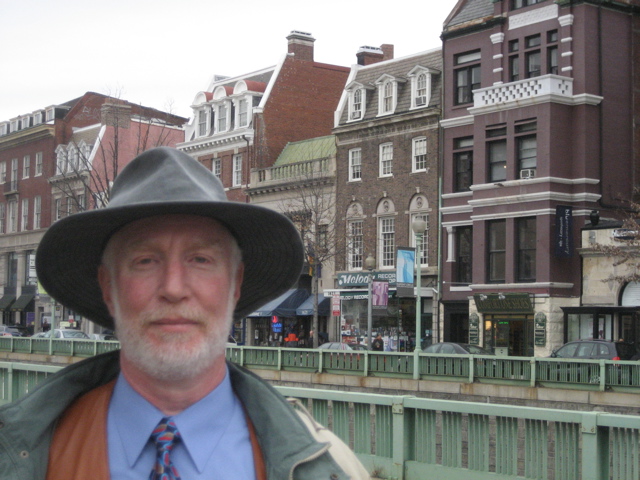 It's my camera, so there are few shots of me. That big hat saved me big time, from sun, cold and heavy rain on the last day. The walk from the Metro to the Churchill was picturesque, and with more different kinds of food than we Arizonans are used to in a four-block span -- Thai, Russian, Greek, Italian, American Pub, Fast, more Thai, Sushi, Steak, Pizza -- but precious little in the way of supplies. A CVS pharmacy was the closest thing to a grocery store we saw the whole time in all our travels. Washington is for embassies, consulates, lobbyists, restaurants, souvenirs, upscale fashion, but you want groceries or sporting goods, you need Virginia or Maryland, where rents are less than astronomical.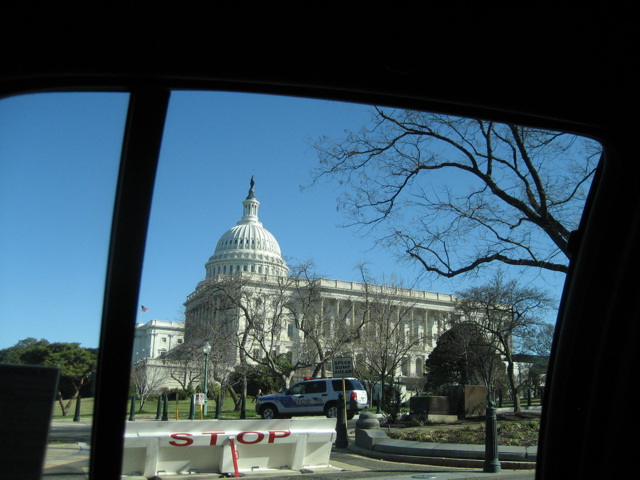 Everything in this town was a picturesque view. Here I'm in a cab, carrying supplies Monday morning to Bob who left ahead of me to get on line. Note the stop sign in the foreground -- it is on an armor plate that lifts out of the ground. It's not a suggestion to stop, it's a barrier that will stop you cold and demolish your vehicle if you try to run it. These were plentiful, a vestige and reminder of the religion of peace, that seeks to kill us all.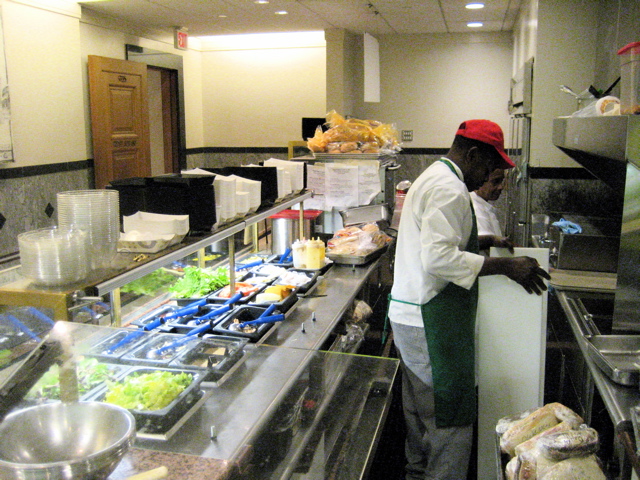 During the day, Hellertown residents had full access to the Supreme Court cafeteria on the ground floor. Just pass through the metal detectors (less sensitive than airport detectors, I got in with my belt on, glasses in my pocket), gather your belongings (no property denials like an airport, except for weapons and similar), and go get chow, use the old and beautiful restrooms. Food was government subsidized so it cost less than it should, and was quite good. This is the hot food and sandwich service line, entry door in the upper left.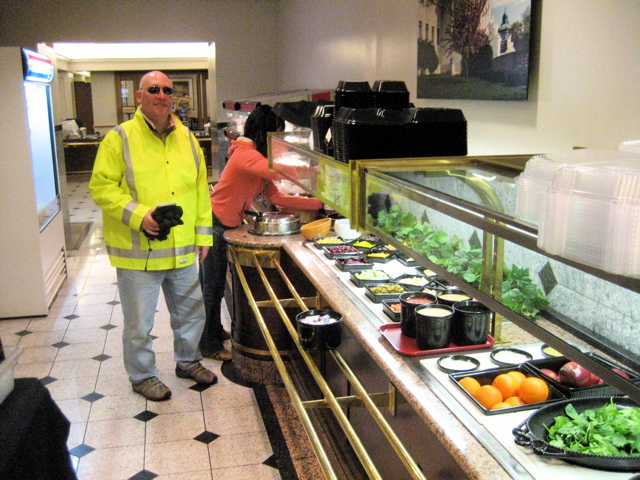 Matt from New Jersey, #6 in line, joined me on our first exploratory trip into the building Monday early. He's at the salad bar line, seating area behind him (we both got the chicken vegetable soup to go). He was one of the non-law students, a gun-rights activist from the NJ firearms assn. (name?) and a friend of several friends of mine. When we went out, people in Hellertown wanted to know everything, can you get in, how do you go in, can anyone eat there, what about the restrooms, cheeze, you'd think these people never went to school and learned nothin, or nothin.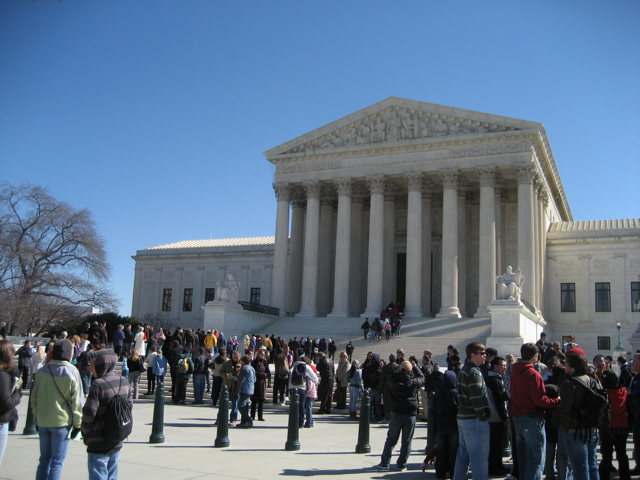 As we waited Monday on the sidewalk to the right of this photo, tourists and passles of students crowded the steps and plaza in front of the Court, eager for a first-hand experience of what this big building is all about. Many stopped and talked with us, few knew what was going on though some did and even expressed envy. Generally, the level of ignorance was predictable and reflected poorly on the government school system most of them suffer under. "Who's on trial?" "Will you hear the testimony?" "Do you think they'll be convicted?" They think Judge Judy is a judge.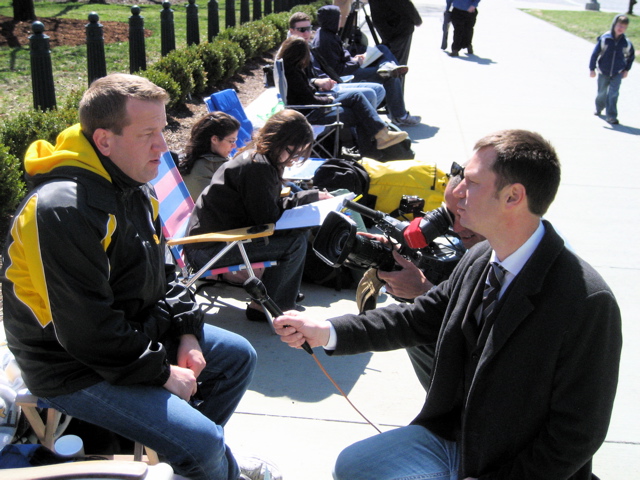 Bob was interviewed repeatedly, as were many of the liner uppers.
Reporters had a penchant for interviewing people near the front.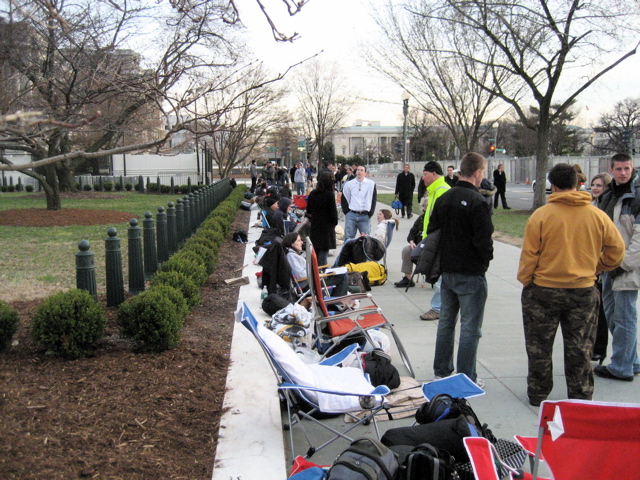 Hellertown just kept growing. It was a community, but everyone knew they would likely not see each other again. Bob and I couldn't get a straight reliable answer ahead of time on how much gear we could bring. Tents were banned, we learned, but a chair and blankets were OK, and Bob kept that to a tiny folding stool that fit in his luggage. Some of these folks had done this before and brought sleeping bags, full-blown beach chairs and coolers. The 50th person, the last position with a probably guaranteed seat, arrived at 4:45 p.m. the night before the case. I heard one report that 66 people actually were seated, and 240 found themselves on the 3-minute rotate-through line for a glimpse of the proceedings. I never did get the total seat count, I think it's around 350, does anyone know?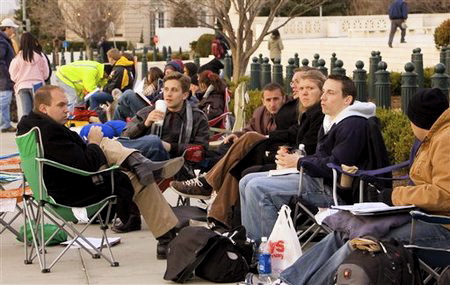 I'm not sure who took this shot, but it's the only one I have of Hellertown with SCOTUS in the background. The circle of law students in the foreground discussed the case dispassionately, like "good" lawyers should, strictly on the merits (sort of), without concern for whether our rights would be honored or demolished (which can hardly be called "on the merits"). While that's a time-honored tenet of the legal system it's also a weakness of the system, and maybe part of why I'm not a lawyer -- I'm a writer (for any of you who have made that common mistaken leap of judgment about me). If a teacher (or a client) told me to argue a case that I found unjust, I would have to refuse.
Heller Photos: 1-PreGame • 2-HearingDay • 3-PostGame • 4-NewsCoverage
Contact:
Alan Korwin
BLOOMFIELD PRESS
"We publish the gun laws."
4848 E. Cactus #505-440
Scottsdale, AZ 85254
602-996-4020 Phone
602-494-0679 FAX
1-800-707-4020 Orders
http://www.gunlaws.com
alan@gunlaws.com
Call, write, fax or click for a free full-color catalog

Encourage politicians to pass more laws...
with expiration dates.