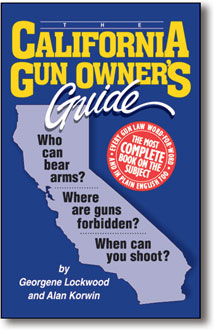 THE CALIFORNIA GUN OWNER'S GUIDE
It doesn't make sense to own a gun
and not know the rules.

For the first time, a complete set of California's gun laws is being released for public use.
The California Gun Owner's Guide is a legal landmark—residents can now hold all the gun laws in one hand. Assembled by noted firearms legal experts Georgene Lockwood and Alan Korwin, The California Gun Owner's Guide contains word-for-word text of all the gun laws (not just the penal code) and extensive supporting material in plain English. California has nearly twice as much gun law as the federal government.

"For too long, Californians have relied on rumor and hearsay—instead of solid information—when exercising the right to bear arms," Korwin commented in a recent interview. "We expect this book to find its way onto the desks of both pro-gun and gun-control advocates alike." Co-author Lockwood agreed, adding, "The California Gun Owner's Guide provides a new framework for the entire firearms debate—reality."

---
Alan Korwin and Georgene Lockwood are the authors of The California Gun Owner's Guide.
Bloomfield Press (Phoenix) $14.95
ISBN: 0-889632-08-2 168 pp., illus., softcover
OUT OF PRINT
A new edition is being developed, all orders will be held until it is in
print, you will be notified of a new price, for approval before shipment.
You may order now to be on the back-order list and be notified
when the book is available.


See Updates to The California Gun Owners Guide
Visit gunlaws.com state-by-state links to gun-law sites