Who is this man?
Alan Korwin
Bloomfield Press and gunlaws.com are owned and operated by Alan Korwin. This is the largest publisher and distributor of gun-law books in America, nationally recognized as an expert resource in this narrowly focused niche.
150-word bio for Mr. Korwin

One-minute intro for speaking engagements

Testimonials
Book-cover miniatures

Videos and TV Appearances
Select one of Alan's speeches for your group


Photos of Mr. Korwin by Jeremy Voas (L), Michael Ives (R)
Drawing of Mr. Korwin by Ralph Richardson

---------------------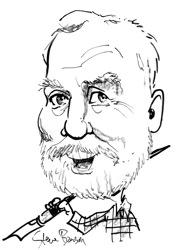 Alan Korwin as drawn by Pulitzer-winning cartoonist Steve Benson
Alan Korwin, author of six books and co-author of eight others, is a full-time freelance writer, consultant and entrepreneur with a thirty-year track record. Alan is one of the nation's leading Second Amendment gun-rights experts, with more than two decades of work in the field. He is a founder and two-term past president of the Arizona Book Publishing Association, which has presented him with its Visionary Leadership award, named in his honor, the Korwin Award. He has received two national awards for publicity work as a member of the Society for Technical Communication, is a past board member of the Arizona chapter of the Society of Professional Journalists, and has been active with the speaker's bureau for the Wash., D.C.-based news-media watchdog, Accuracy In Media.

Mr. Korwin wrote the business plan that raised $5 million in venture capital and launched the in-flight catalog SkyMall; he did the publicity for Pulitzer Prize cartoonist Steve Benson's fourth book; working with American Express, he wrote the executive-level strategic plan that defined their worldwide telecommunications strategy for the 1990s; and he had a hand in developing ASPED, Arizona's economic strategic plan. Korwin's writing appears often in a wide spectrum of local and national publications.

Korwin turned his first book, The Arizona Gun Owner's Guide, into a self-published best-seller, now in its 26th edition. With his wife Cheryl he operates Bloomfield Press, which has grown into the largest publisher and distributor of gun-law books in the country. It is built around ten books he has completed on the subject (he has written 14), including the unabridged federal guide Gun Laws of America, and a rapidly growing line of related books and DVDs.

Supreme Court Gun Cases was his 10th book and landed him on the cover of the 600,000-circulation magazine below. He was invited by the U.S. Supreme Court to attend oral argument in both D.C. v. Heller, which led to his 11th book, The Heller Case, and McDonald v. Chicago, in which his firm Bloomfield Press was an amicus. The cases established the Second Amendment as an individual right, and applicable to the states, respectively. Alan is widely recognized as a leading expert on America's gun laws, and has made more than 1,000 radio and TV appearances, including the national news shows. His 12th book, After You Shoot, has motivated changes in Arizona's judicial system and bills in state legislatures that continue to percolate.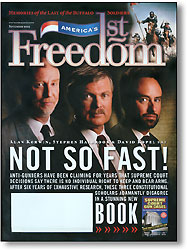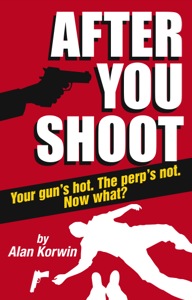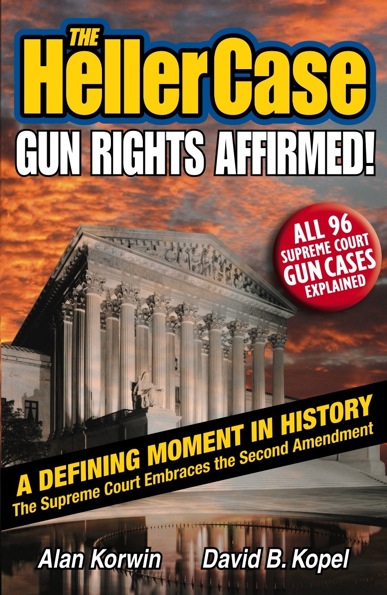 Alan Korwin, Stephen Halbrook and Dave Kopel (L-R) on the cover of America's First Freedom magazine after the release of the unabridged Supreme Court Gun Cases in 2003. The book was ranked as one of the Top Ten Second Amendment books of all time. After You Shoot questions the paradigm on what to do after a lethal-force incident. The Heller Case examines one of the most significant Second Amendment cases in history, and summarizes the other 96 gun-related High Court cases decided up to that point (there are now more than 110). Click the book images for details.

Alan Korwin is originally from New York City, where his clients included IBM, AT&T, NYNEX and others, many with real names. He is a pretty good guitarist and singer, with a penchant for parody (his current band is The Cartridge Family). In 1986, finally married, he moved to the Valley of the Sun. It was a joyful and successful move.
NOTES: Korwin's first book, The Arizona Gun Owner's Guide, came out in 1989. It explains the state's gun laws in plain-English and has spawned a series of guides that included California, Florida, Texas, Virginia, and an unabridged edition of the federal gun laws, Gun Laws of America, with more on the way. His book, Wickenburg! The ultimate guide to the ultimate western town, features a foreword by Barry Goldwater, and his full-color book Scottsdale, published by American & World Geographic Publishing came out in 1995. In 1997, HarperCollins released Safe Not Sorry, by Tanya Metaksa, which features three supplements Korwin wrote on national firearms law. His co-written book, Supreme Court Gun Cases, released at the end of 2003 after six years of effort, chronicles the entire High Court jurisprudence on guns. That book is in the High Court library, which helped him secure a reserved seat for oral argument in the D.C. v. Heller gun-ban case, which became his 11th book, The Heller Case: Gun Rights Affirmed!
A partial list of Mr. Korwin's clients includes: American Express, SkyMall, ITT, Intel, IBM, AT&T, Motorola, MicroAge, Wide World of Maps, Kroy, Three-Five Systems, NYNEX and The Mesa Varmint Callers.
Contact:
In Arizona: 602-996-4020
Nationwide: 800-707-4020
or Write to Alan directly
Alan Korwin's first book,
The Arizona Gun Owner's Guide,
received universal praise:

"...this book is indispensable."
--Arizona Highways Magazine

"...It is an excellent book... comprehensive, accurate...
In my opinion every gun owner in the state
should have a copy."
--Former Attorney General Bob Corbin

"A much needed and very timely new book."
--Arizona Authors' Association

"Every gun owner needs a copy of the guide."
--Today's Arizona Woman

"Easy to understand and easy to read...
thanks to his ability to turn legalese
into plain, simple language."
--The Phoenix Gazette

"...an excellent guide."
--Books of the Southwest

"A sales blockbuster."
--Many Feathers Distributors

"We recommend it..."
--Mesa Varmint Callers

Look what people have said about
Alan Korwin's consulting work:

"Alan is reliable and wonderful to work with, a credit to the school. I recommend Alan Korwin without reservation."
Shiela Contreras, Community Education Coordinator
Phoenix College

"The evaluations prepared by your students are always very positive, and your public speaking skills are exemplary."
Jan Cameron, City of Scottsdale
Recreation Divison Coordinator

"I've found your common sense principles really do work, and I've been applying them with excellent results."
Gale Golden, President
Society for Technical Communication, Phoenix

"You were great! I would recommend you to any association, group or individual seriously seeking to improve press relations."
Bern Roberts, President
Arizona Book Publishing Association

"Acting on the campaign you designed, my business saw a six-figure annual increase in volume. With total confidence I can recommend you to others who need a similar burst of growth."
Dan Guido, Owner
Tony's Service Center

"Thank you so much for your outstanding performance. You were the best speaker I had yet booked, and I'm widely acclaimed for my superlative speaker choices."
Kebba Buckley, Vice Chairman
Mensa (The High IQ Society)

"Your enthusiasm, the constant stream of examples and your no-nonsense techniques really brought the message home. I will recommend you to anyone who asks."
James Cowlin, Program Committee
Business Builders

"Thanks for all the good tricks and techniques."
Velma Cooper, President
Arizona Author's Association

"Thanks for taking the time to answer my questions regarding the AR-15 and suppressor. After just a few minutes of speaking with you I knew I had found the 'right guy.' It's funny, after working in law enforcement for nearly eighteen years I thought I knew the laws regarding firearms. Apparently not. I look forward to reading your book & will keep it next to my copy of the State of Arizona statutes for future reference." Frank H., Detective [City] P.D

"Although I am extremely lazy,
I suspect your insights have changed my life."
Howard White

--

Alan, I cannot express how much our entire group appreciated your speaking to us at our last Legislative District meeting. You covered so many important topics I can say I have never even given Congressmen as much time as I gave you at our meeting. I knew you ran way over the allotted time frame but I wanted to hear more and I could see in the faces of our members that they would have lynched me if I had tried to cut you off.

Thank you so very much for the excellent presentation to our group! We will put into practice many of the ideas you left with us, especially about watching and dealing with the media.

I look forward to having you back in the future! Hope you get lots of speaking engagements... you are very worthy of large audiences!

Sincerely, David Henderson
Chairman, Legislative District 15, Arizona

--

Alan's talents were recognized early:
Alan's tenth book, Supreme Court Gun Cases, got noticed:


"…wonderful… groundbreaking… belongs on the bookshelf of every practitioner of constitutional law… Gun rights are an integral part of each American's fundamental constitutional liberties."
Thomas C. Patterson, M.D., Chairman
Goldwater Institute

"…a political earthquake… an exceptional piece of research… the anti-freedom crowd is not going to like Supreme Court Gun Cases."
Larry Pratt, Executive Director
Gun Owners of America

"…dynamite… Sometimes people need to defend themselves while we're responding to a 911 call. Law enforcement officers know that firearms in the hands of decent people are a deterrent to crime… It's good to know the Supreme Court has been this positive about gun rights and self defense… pulls the rug out from under politicians who want you to believe you have no right to defend yourself or own a gun."
Joe Arpaio
"America's Toughest Sheriff"

"Academics and judges will be surprised (no actually shocked)... The number of precedents is truly overwhelming."
John R. Lott, Jr., Ph.D.
American Enterprise Institute

"…a stunning accomplishment… will change the political landscape on the gun-rights debate."
Evan Nappen
Attorney and Author

"The dream team of American gun-law experts has driven a stake through the heart of the anti-rights gun-ban lobby… gun haters will need to manufacture new lies… The individual right to keep and bear arms is an American tradition with roots as deep as the nation itself."
Alan Gottlieb, Chairman
Second Amendment Foundation

"While the Supremes have directly acknowledged the Second Amendment as an individual right, this new book unearths 92 gun-related cases where the High Court upheld, among other things, armed self-defense of person, family and community—the heart of the Second Amendment. The synopsis of the Miller case is the best I have ever read."
Neal Knox, Gun-Rights Activist
The Firearms Coalition

"…strikes a powerful blow for freedom… My hope and prayer is that your book will supply the brain-cell ammunition necessary to continue our battle against those who would deny Americans such a basic human right."
Suzanna Gratia Hupp, Texas State Representative
Survivor of Luby's Massacre and Mother

"This book proves what NRA has been saying all along— the Second Amendment protects an individual's right to keep and bear arms—a freedom existing before America's founding and enshrined in our Bill of Rights."
Wayne R. LaPierre
National Rifle Association Executive Vice President

"...should convince anyone that the right to own firearms is at least as strong as the right to free speech. Bravo on an important scholastic work that is easy to read and understand."
Tom Gresham
Nationally Syndicated Radio Talk Show Host

From an interview in New Times, Dec. 2000, by Jeremy Voas:

Alan Korwin reminds me of his favorite dueling truisms: Chairman Mao said that power comes from the barrel of a gun, Ronald Reagan averred that power comes from the barrel of a pen.

Korwin fires both barrels.

He is not your stereotypical Second Amendment crusader. He is prone to garish shirts and plays a mean guitar. He does not wear a sidearm in public. He does not take guests to his home to fondle his arsenal... He is witty, well-groomed and has enjoyed success as a writer, consultant and lecturer. He speaks not with a squint-eye twang, but articulately, in a measured Bronx brogue. He writes even more elegantly than he speaks. He has authored and published (through his Bloomfield Press) seven books on gun laws. His first tome, The Arizona Gun Owner's Guide, is in its 19th printing. It has sold in excess of 100,000 copies.

Last Friday, Korwin convened his annual Bill of Rights Day luncheon. He and a dozen other men -- mostly professionals -- met at Omaha Steakhouse to observe the birth of the hallowed document, which was ratified on December 15, 1791, in Philadelphia. The parchment was read aloud with reverence. The group broke bread and bemoaned society's indifference to erosion of the rights bestowed in the bill. These gentlemen venerate the Constitution. As do I.

PLATFORM HIGHLIGHTS:

Website operating since 1995, averages 60K real visits/month (March 2007)

"Page Nine" news-and-views blog subscribers exceed 45K and growing
Cross-posted readership now exceeds 250,000

10th book named one of the all-time Top 10 on Second Amendment rights

Personal book sales now exceed one-quarter million

A veteran of more than 1,500 radio, TV and personal appearances
inclduing with the speaker's bureau for Wash., D.C.-based Accuracy In Media

Named "Grassroots Activist of the Year" by the Second Amendment Foundation

Alan's blog "Page Nine" has a dedicated following
and is growing by leaps and bounds:

Alan - Thanks for your tireless efforts - you're amazing! (Bob Hisserich); Alan: I have to say, you are getting better all the time. Great stuff! (Woody Wilson); Hang in there Alan. You're our hero. (Charlie); Alan, as usual, thought-provoking and anger-provoking commentary on what passes for journalism in America. (Dave Maneck); plenty more where that came from at Page Nine.

Write to Alan directly


Pulitzer-Prize Winning Artist Steve Benson's
impression of Alan and Cheryl Korwin.






150-word bio for author Alan Korwin

GUN-LAW-EXPERT VERSION:

Alan Korwin wrote his first book, The Arizona Gun Owner's Guide, in 1989. It is now in its 26th edition with about 250,000 copies in print. He went on to write or co-write nine more books on gun laws, including state guides for California, Florida, Texas and Virginia, and the unabridged federal guides Gun Laws of America and Supreme Court Gun Cases. His 11th book, which debuted in 2008, is The Heller Case: Gun Rights Affirmed!, and his 12th, After You Shoot, is about the deadly loophole in self-defense law. He recently completed Your First Gun, for people new to gun ownership, and for gun owners to give to their gunless friends.

With his wife Cheryl he operates Bloomfield Press, the largest publisher and distributor of gun-law books in America. His website, GunLaws.com, features a free National Directory to every gun law in the country and more than 300 books and DVDs for gun owners and the freedom movement. Alan's blog, PageNine.org, is carried by scores of paper and online outlets. Wild rumors about his outrageous political-parody band, The Cartridge Family, could not be confirmed at press time.

GENERAL BUSINESS VERSION:

Alan Korwin is a full-time writer whose three-decade background includes work in business, legal, news, and entertainment industries. Mr. Korwin wrote the business plan that raised $5 million in venture capital and launched the in-flight catalog SkyMall. He did the publicity campaign for Pulitzer Prize cartoonist Steve Benson's 4th book Where Do You Draw The Line.

Invited twice to the U.S. Supreme Court to observe oral argument in Second Amendment gun-rights cases, he has written 10 of his 14 books on that subject and is among the leading national experts in that field. His 13th book, Bomb Jokes at Airports, deals with dangerous and growing limits on free speech, and his political-parody band, The Cartridge Family, is helping to spread peace and freedom through music... and threats if necessary.

The winner of the 2013 Defender of Liberty Award, Mr. Korwin is based in Scottsdale, Arizona, where he runs GunLaws.com and Bloomfield Press, the largest publisher and distributor of gun-law books in the nation.

One-minute intro for speaking engagements:


"Alan Korwin has been making a decent living as a full-time freelance writer since 1984. He is a founder and past president of the Arizona Book Publishing Association and a former board member of the Society of Professional Journalists in Phoenix.

"His clients include IBM, American Express, Intel and anyone else with a checkbook and a bank guarantee card. He is a frequent guest on radio talk shows, television news programs and is an advisor to several national advocacy groups.

"Alan's first book, the Arizona Gun Owner's Guide, is in its 26th edition, and he wrote the unabridged guide, Gun Laws of America. He completed Supreme Court Gun Cases in 2003, The Heller Case: Gun Rights Affirmed! in 2008, and completed his book on free speech, about 186 things you can't say anymore, entitled, Bomb Jokes at Airports in 2011. His newest book is Your First Gun, for people new to gun ownership, and for gun owners to give to their gunless friends.

"Today Alan will help us examine [insert specifics here] the differences between news reports and reality, how freedom and guns are related, where the threats to freedom are really coming from, and what you can personally do about it all. He will remain afterwards to autograph books... if he's lucky. Please help me welcome Alan Korwin!"

----

Why do people invite Alan to speak at their meetings?

Thanks for a wonderful presentation, Alan. You delivered more than promised, provoked discussion and encouraged us to question what we "know" to be true. I especially appreciated your recognition of the creative energy within all of us.

Karen Pasley, Program Manager
Society for Technical Communication - Phoenix Chapter

Attendee feedback
May STC Phoenix Chapter dinner meeting --

"Alan was an engaging speaker and his speech was thought provoking."

"Alan is always a great, informative speaker! 5 stars!"

"This was my first meeting and I found it very interesting. I really enjoyed the speaker."

"Great job, Alan. Great change of pace and interesting topics."

"I very much enjoyed tonight's speaker. Very engaging, very informative and lots of worthwhile tips and experiences."

"Wonderful speaker – please bring him back again soon!"

"Very good meeting; one of the best this year!"

"Excellent – great discussion. I plan to visit aim.org. Thanks."

"Excellent program, interactive and informative."

"Alan was the best speaker after the ProSpring guy. Please invite Alan again."

"This was the most enjoyable meeting that I've been to in years."

"Excellent topic, interesting speaker, but why not give out guns as door prizes?! Gives a new meaning to drawing…"